The Good Land Book Project
About the Book, Goleta the Good Land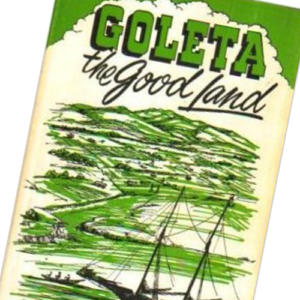 In honor of the Goleta Valley Historical Society's 50th anniversary we embarked on a special project, to reprint this wonderful book celebrating Goleta history.
We are excited to announce that the book is again available for purchase in our Museum Store.
Walker Tompkins, a popular columnist, historian and radio personality wrote the community history, Goleta: The Good Land in 1966.
Originally published by the Goleta Amvets Post 55 with support from the Santa Barbara News-Press, research for the book was embraced by many of Goleta Valley Historical Society's founders, including Steve Sullivan, our first president, and Finis Haskins, for whom our research library is dedicated.
The book reads more like an adventure novel than a community history, beginning in 1542, when Cabrillo became the first European to visit the Goleta Valley region, and ending in 1966 when Goleta was emerging as a research center of the space age.
The book was published by Kieran Publishing.
For more information or to order wholesale contact [email protected].
SPONSORS
Debby & Roger Aceves
The Bottiani Family
Pat & Ron Caird
The Family of Joe L. & Selina E. Cavaletto
Robin & Reid Cederlof
Janice G. Cloud & Amanda De Lucia
Ellwood Ranch, Inc: Four generations: Russel & Margaret, John & Arlene, Ken & Charlene, Russell & Jessica
City of Goleta
Goleta Chamber of Commerce
The Board of Goleta Valley Historical Society
Rose Ann & Earl Hill
In Memory of Barbara Jean McCaffrey Sedar, from her daughter, Jean Sedar
Mosher Foundation
Michel Nellis
Karen Ramsdell
SoCal IP Law Group LLP
Williams-Corbett Foundation
FRIENDS
Tom Blabey
Albert Borgaro
Margaret Connell
Sally Fouhse
Peter Goodell
Sue & Scott Heinz
Dan Marchiando
Kris & Bob Muller
Edward & Jeannette Silva
Virginia Smith
Rick Wolf